A new medical study has found that the anti-clotting drug Xarelto could have less of a risk of causing a stroke than older blood thinners, but the drug appears to share of the same risks as Pradaxa.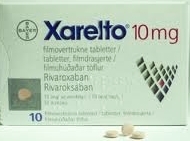 The study, which was funded by Johnson & Johnson, the manufacturers of the new medication Xarelto. According to researchers, users of Xarelto were one-third less likely to experience brain bleeding than patients given warfarin, (Coumadin), when the drug was prescribed for the treatment of atrial fibrillation.
But, Xarelto, like Pradaxa, belongs to a new class of blood thinners that require less monitoring, but may cause severe bleeding problems that are more difficult to treat.
Pradaxa (dabigatran) is a blood thinner that was introduced in October 2010, as an alternative to warfarin for prevention of strokes among patients with atrial fibrillation. The medication has been heavily promoted by the manufacturer, Boehringer Ingelheim.
If severe bleeding problems do occur with warfarin, they can be treated by an injection of Vitamin K, fresh frozen plasma, and blood transfusions. There is no easy fix for bleeding problems with Pradaxa, and similar medications like Xarelto.
In December, the FDA announced that it was launching a safety investigation into reports of severe bleeding events with Pradaxa, after a shocking number of deaths and severe injuries were submitted to the agency's adverse event reporting system during the first year Pradaxa was on the market.
Experts are alarmed about the safety of the drug, and some researchers have recently questioned the validity of the drug's pre-approval clinical trials, saying that they were so flawed that the FDA should have never approved Pradaxa for the market.
The Institute of Safe Medication Practices (ISMP) reported that the FDA received hundreds of complaints about Pradaxa problems just weeks after it was released, related to bleeding events in elderly patients.
A number of individuals throughout the United States are now considering a potential Pradaxa lawsuit against Boehringer Ingelheim after suffering problems like internal bleeding, hemorrhages, heart attacks, strokes and sudden death.
Shezad Malik is an Internal Medicine and Cardiology specialist, a licensed Texas Medical Doctor and Defective Medical Device and Dangerous Drug Attorney. Dr Shezad Malik Law Firm has offices based in Fort Worth and Dallas and represents people who have suffered catastrophic and serious personal injuries including wrongful death, caused by the negligence or recklessness of others.