Selective seratonin reuptake inhibitor drugs are known as SSRI antidepressants.
Serious side effects are linked to the following antidepressants when taken while pregnant:
* Prozac®, * Xanax®, * Wellbutrin®, * Paxil®
Children born with heart birth defects, lung birth defects and other congenital birth defects have been linked to the possible use of a group of antidepressant drugs classified as Selective Serotonin Re-uptake Inhibitors (SSRI) by women during pregnancy. In a medical study, infants exposed to SSRI antidepressants during the first trimester of pregnancy had a 60% higher probability of developing congenital heart defects compared to newborns whose mothers did not take SSRI antidepressants.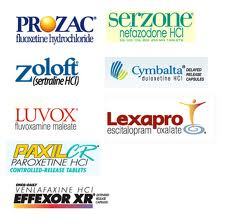 According to the FDA, healthcare professionals are advised to carefully weigh the potential risks and benefits of using SSRI therapy in women during pregnancy and to discuss these findings as well as treatment alternatives with their patients.
Additional research recently published in the New England Journal of Medicine shows that use of anti-depressant medications during the latter half of pregnancy increases the risk the newborn will develop a serious respiratory disorder known as Persistent Pulmonary Hypertension (PPHN). When a newborn suffers from Persistent Pulmonary Hypertension (PPHN), the pulmonary arteries (blood vessels in the lungs) fail to fully open, and the newborn is unable to oxygenate his/her blood. Without an adequate supply of oxygen-rich blood, the infant can suffer serious complications.
Data from this study indicate that the use of Selective Serotonin Reuptake Inhibitors (SSRIs) such as Prozac®, Zoloft® and Paxil® during the second half of pregnancy may increase the risk of Persistent Pulmonary Hypertension (PPHN) by as much as six times the normal risk.
The anti-depressant drugs – known as Selective Serotonin Reuptake Inhibitors (SSRIs) include the following:
* Paxil® (paroxetine), * Zoloft® (sertraline), * Wellbutrin® (bupropion), * Celexa® (citalopram), * Cipralex® (escitalopram), * Luvox® (fluvoxamine), * Remeron® (mirtazapine), * Effexor® (venlafaxine), * Prozac® (fluoxetine)
Shezad Malik is an Internal Medicine and Cardiology specialist, a licensed Texas Medical Doctor and Defective Medical Device and Dangerous Drug Attorney. Dr Shezad Malik Law Firm has offices based in Fort Worth and Dallas and represents people who have suffered catastrophic and serious personal injuries including wrongful death, caused by the negligence or recklessness of others.