Here is this update regarding the status of a MDL consolidation request for Axtos.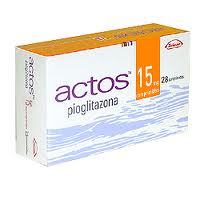 Takeda Pharmaceuticals the manufacturer of Actos and their defense attorneys have indicated that the drug maker supports a request to have all federal Actos bladder cancer lawsuits consolidated for pretrial litigation. But Takeda disagrees about where the defective product liability claims should be centralized.
On September 29, Takeda Actos lawyers filed a response with the U.S. Judicial Panel on Multidistrict Litigation, indicating that they agree with plaintiffs that an MDL, or multidistrict litigation, should be formed, but requested that the cases be transferred to either Northern District of Illinois or Western District of Louisiana.
A motion to consolidate the Actos bladder cancer litigation was first filed on August 31, by plaintiff Glen Weant, who requested that all federal Actos lawsuits be transferred to the U.S. District Court for the Southern District of Illinois before Judge G. Patrick Murphy. Since then, additional plaintiffs have filed responses proposing other U.S. District Judges to preside over the litigation.
The first Actos lawsuit was filed on July 29, 2011. According to documents filed by Takeda last week, the drug maker is now aware of at least 54 cases that have been filed in federal district courts throughout the United States. In addition, as Actos plaintiffs attorneys continue to evaluate and file new complaints on behalf of people diagnosed with bladder cancer after taking the type 2 diabetes drug, the number of claims is expected to continue to grow.
All of the complaints involve similar allegations that side effects of Actos caused users to develop bladder cancer. Plaintiffs argue that Takeda failed to properly research the medication or warn about the risk.
Takeda's attorneys indicated that they agreed that the cases fit the requirements for an MDL and that consolidation would help prevent contradictory rulings and duplicative discovery. It would also serve the convenience of counsel, witnesses, plaintiffs and defendants, according to the drug maker's response.
Takeda has requested that the Actos litigation be consolidated in the Northern District of Illinois, where the drug maker is headquartered and where the company's records are located. As an alternative, the drug maker proposed the Western District of Louisiana for the Actos MDL to be centralized, as there are at least 16 cases already pending in that district.
Actos (pioglitazone) was approved by FDA to treat Type 2 Diabetes in July, 1999. It is a once-a-day pill that increases the body's sensitivity to insulin. The medication has grown in popularity in recent years, after studies linked its primary competitor, Avandia, to an increased risk of heart attacks and death.
FDA officials began reviewing the potential risk of Actos bladder cancer problems in September 2010, after interim data from an on-going 10 year study found that users may face an increased risk the longer they take the drug. Data from the study conducted by Takeda Pharmaceuticals, the makers of Actos, indicated that after 24 months, the rate of exposure and the increased risk of bladder cancer reached statistical significance.
In June, an Actos recall was issued in France after a review of public insurance data identified an increased incidence of bladder cancer with Actos use.
The European Union's European Medicines Agency (EMA) also conducted a review and confirmed the bladder cancer risk, calling for new warnings and a six-month review of every patient on Actos. The EMA suggested that Actos bladder cancer risk could be reduced by appropriate patient selection and exclusion.
Since then, the number of lawsuits over Actos has been steadily increasing in federal district courts throughout the United States. The U.S. Judicial Panel on Multidistrict Litigation is expected to schedule oral arguments on the motion to consolidate the cases at the next hearing, which will be held on December 1 in Savannah, Georgia.
FDA Drug Safety Communication: Ongoing Safety Review of Actos (pioglitazone) and Potential Increased Risk of Bladder Cancer After Two Years Exposure
The U.S. Food and Drug Administration (FDA) is informing the public that use of the diabetes medication Actos (pioglitazone) for more than one year may be associated with an increased risk of bladder cancer. Information about this risk will be added to the Warnings and Precautions section of the label for pioglitazone-containing medicines. The patient Medication Guide for these medicines will also be revised to include information on the risk of bladder cancer.
Shezad Malik is an Internal Medicine and Cardiology specialist, a Texas Medical Doctor (retired) and Defective Medical Device and Dangerous Drug Attorney. Dr. Shezad Malik Law Firm has offices based in Fort Worth and Dallas and represents people who have suffered catastrophic and serious personal injuries including wrongful death, caused by the negligence or recklessness of others.